Sonic & Knuckles
Genre : Action / Plateforme
Développeur : Sonic Team
Editeur : Sega
Distributeur : Sega
Sortie Europe : 19 octobre 1994
Sortie Japon : 18 octobre 1994
Sortie US : 17 octobre 1994
Narutobi-sensei
, 30.11.06
The jeu de Sonic,le meilleur à mon avis!On n'avait jamais vu ce genr de graphismes sur la mégadrive,c'est impressionnant.Et pour la première fois notre hérisson bleu ne se bornait plus à chasser le grand méchant pour sauver les petites bêtes innocentes...A ne surtout pas manquer!
Pour le moment,c'est le meilleur des jeux sonic aux monde.J'ai bien dit pour le moment.Ce jeu a l'histoire la plus importante de tout les sonic.
Quelle console next-gen préférez-vous ?
0
ClassicLiving | Sonic 4 Episode I
Ce Sonic 4 Episode 1 est décidément l'une de mes plus grosses déceptions vidéoludiques. Tout d'abord, je trouve vraiment honteux de sortir le jeu en plusieurs épisodes, surtout pour un jeu qui est sensé être la...
Lire la suite
8
manfred741 | Chaotix
Comment aborder Chaotix ? Jeu maudit victime de son support 32x ( trop cher, trop tard, inutile ?) et de l?arrivée de la Saturn; ce titre à très vite été oublié par SEGA et passe donc à la trappe pour beaucoup...
Lire la suite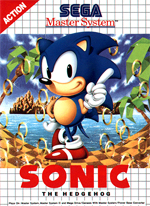 8
Dioxaz | Sonic The Hedgehog 8bits
Je ne suis pas d'accord sur le fait qu'il soit si facile. Je suis peut-être la seule personne au monde qui ai eu des difficultés dessus, mais ça voudrait alors dire que son homologue MD en comparaison pourrait se...
Lire la suite
Un forum de plus de 90 000 message et 1500 membres.
Votre site ici :
Envoyer une image 120x80 à webmaster[@]soniconline.fr