Sonic Generations
Genre : Plateforme / Action
Développeur : Sega
Editeur : Sega
Distributeur : Sega
Sortie Europe : 4 novembre 2011
Sortie Japon : 1 décembre 2011
Sortie US : 4 novembre 2011
Pendant que Link fête ses 25 piges en 2011, Sonic souffle sa vingtième bougie à travers Sonic Generations, un jeu hommage qui devrait satisfaire les amoureux du hérisson bleu. En réinterprétant des niveaux d'anciens jeux avec deux gameplay distincts, la Team SEGA semble mieux maîtriser son sujet en offrant un bon divertissement. C'est donc avec le sourire et de la nostalgie qu'on retraversera des lieux mythiques, tout en n'oubliant pas de pester contre quelques écueils : trop peu de mondes, un manque de réglages dans la prise en main et, au final, pas de grand chamboulement dans ses fondements.... Mine de rien, 20 ans, ça passe vite !
Sonic Generations entendait réconcilier ceux qui restent attachés aux aventures en 2D du hérisson et ceux qui ont su digérer son évolution. Le pari n'est qu'à moitié réussi. Si on apprécie de redécouvrir sous un autre angle les niveaux les plus marquants de la série, revisités pour certains avec brio, l'expérience reste entachée d'une jouabilité peu convaincante. Les niveaux rétro, qui pâtissent d'une physique ratée et de ralentissements imputables à la surcharge visuelle, se révèlent inaptes à restituer les sensations procurées par les vieux Sonic, tandis que les niveaux modernes, aussi jouissifs que peu inspirés, reconduisent les qualités et les défauts des précédents épisodes en 3D. Heureusement, la variété en termes de défis et le fan-service omniprésent compensent en partie ces écueils, d'autant que la bande-son fabuleuse motiverait presque, à elle seule, l'investissement.
Condensé du meilleur de Sonic, à travers les courses folles de ses deux hérissons dans les plus emblématiques niveaux de la saga, Sonic Generations retouche sans trahir, permettant au fan de la première heure tout comme au nouveau venu, de bénéficier d'une action spectaculaire, colorée et joyeuse mais aussi d'une anthologie des musiques, des images, des combats de boss et de tout ce qui a fait le succès et la grandeur de la mascotte SEGA. Si quelques imprécisions de gameplay sont toujours là et que quelques niveaux en plus auraient été bienvenus, Sonic Generations célèbre de bien belle manière les vingt ans du hérisson le plus rapide du monde. Indispensable pour les fans, ce Sonic Generations ne saurait laisser en reste les joueurs un peu nostalgiques dont les premières parties remontent à l'ère 16 bits et ceux qui ont un amour pour le pur jeu vidéo, coloré, pêchu, spectaculaire.
Aside from those missteps, however, Sonic Generations is a genuine delight. Sure, we could do without the need to complete three challenge levels before being allowed to move on to the next series of proper stages, but with a whopping 90 of such levels on the disc there's at least a ton of extra playable content here for those that fall in love with Sonic Generations. Those who are just along for the main ride will find it's one of the best Sonic games in recent years.
Generations at least offers a passing glimpse of Sonic's early days, where sprinting and platforming offered a balanced, reaction-based gameplay rhythm. The rest, however, is best viewed as a document of how Sega has struggled to stay true to that original template, and toggling between the old and new is a painful reminder of where Sonic went wrong. Instead of the sweet chords of nostalgia, Green Hill Zone's chirpy tunes sound like a fanfare for the departed.
Sonic Generations still doesn't do much to dissuade us that the hedgehog's best days are distant memories, but at least it is a worthy tribute to them, capturing the subtler elements of the original Hedgehog's enduring appeal although still falling foul of some of his weaknesses. And looking ahead, it also suggests that the next 20 years - for Sega will surely continue to pump out Sonic games until its dying breath - at least hold the promise of many more enjoyable birthdays to come.
Compared to Colors, Sonic Generations is a weaker, above average effort. Even taken as fan-service, the game's wavering quality, apparent lack of creativity and meandering filler feels like it's stalling until next year's birthday, and next year's game. Sonic Team would have been wiser to truly reflect upon this 20th anniversary. Remember: When you're at a birthday party, it means you're one year closer to a funeral.
At the end of the game, old and new Sonic part ways. As they do, modern Sonic says to his retro doppelganger, "Hey Sonic, enjoy your future, it's going to be great!" If he only knew.
Unfortunately, only a third of the game is dedicated to re-creating Genesis-era stages, and classics like Sonic the Hedgehog 3 and Sonic 3D aren't represented at all. Even worse, the game's beatable in five or six hours, with little incentive to reach 100% completion. Hopefully, Generations can spawn a sequel that fixes these flaws.
On ne s'attendait pas à retrouver le hérisson bleu en aussi grande forme. Beaucoup plus riche que ne le suggèrent les premières minutes de jeu, grâce aux challenges annexes et aux innombrables bonus, Sonic Generations transcende les épisodes emblématiques de la série. Des loopings de Chemical Plant aux transformations de Sonic Colours, en passant par les boss soignés et les remix musicaux, ce panorama est d'abord une opération fanservice qui ne manque pas de piquant, mais aussi un titre au gameplay dynamique et puissant ; le Sonic qu'on aime. A ce petit jeu, ce sont sans doute les niveaux modernes en 3D qui offrent le plus de sensations, le hérisson "ancienne version" étant un peu trop sage pour rivaliser en termes de dynamisme. Bref, sans être le retour triomphal qui mettra tout le monde d'accord, la faute aux habituels problèmes de précision et une fluidité qu'on aurait souhaitée irréprochable, Sonic Generations fera forcément vibrer la corde sensible des fans d'hier comme d'aujourd'hui. C'est bien connu : à 20 ans, on est invincible.
There's a great deal of game here, which speaks to just how smart Sega is in iterating on a small collection of stages, rather than going the usual route of wasting valuable HD assets on a series of sprawling (and typically unplayable) levels for Sonic to get lost in.
While it's not quite the stunning triumph that many had hoped for, Sonic Generations is a truly great game that provides some of the best Sonic action ever seen and pays fitting tribute to Sonic the Hedgehog -- highlighting both his successes and his failures. If Sonic Team can keep this up, then the blue blur will most definitely be back on top.
Sega finally appears to have learned from its mistakes. Sonic Generations' thoughtful mishmash of the hedgehog's distinct incarnations delivers the best of both worlds. Though it's a bit on the short side, the fundamentals are undeniably well executed. Sonic hasn't been this good in years.
It feels refreshing to be able to say that Sonic is good again. His upward trajectory over the last year continues and he's only gaining momentum. Sonic Generations is largely a game for the most hardcore of Sonic fans, but for the millions who have fond memories of narrowly dodging spikes, grinding on rails, or even that time he was a pinball, Sonic Generations is a game made for you.
Quelle console next-gen préférez-vous ?
0
ClassicLiving | Sonic 4 Episode I
Ce Sonic 4 Episode 1 est décidément l'une de mes plus grosses déceptions vidéoludiques. Tout d'abord, je trouve vraiment honteux de sortir le jeu en plusieurs épisodes, surtout pour un jeu qui est sensé être la...
Lire la suite
8
manfred741 | Chaotix
Comment aborder Chaotix ? Jeu maudit victime de son support 32x ( trop cher, trop tard, inutile ?) et de l?arrivée de la Saturn; ce titre à très vite été oublié par SEGA et passe donc à la trappe pour beaucoup...
Lire la suite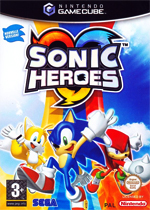 3
Maria_R | Sonic Heroes
Heroes s'ajoute aux déceptions des Sonic récents... Malgré une panoplie de personnages jouables (12 en tout, un record je crois), Heroes est doté d'un scénario fade qui n'est en aucun cas une suite logique à...
Lire la suite
Un forum de plus de 90 000 message et 1500 membres.
Votre site ici :
Envoyer une image 120x80 à webmaster[@]soniconline.fr