Sonic Advance
Genre : Action / Plateforme
Développeur : Sonic Team & Dimps
Editeur : Sega
Distributeur : Sega
Sortie Europe : 23 mars 2002
Sortie Japon : 22 décembre 2001
Sortie US : 4 février 2002
It's ultimately a satisfying experience thanks to a mix of classic Sonic 2D gameplay, a familiar cast of characters, and new technology.
La version GBA des aventures du hérisson bleu est dans la lignée des versions 2D Megadrive et Game Gear. Speedée et superbe. L'ajout des trois autres héros lui apporte un petit côté "exploration" fort sympathique, augmentant de fait la durée de vie. Bref, Sonic Advance complète avec succès la logithèque d'une GBA déjà fort bien pourvue en jeu de plates-formes.
Quelle console next-gen préférez-vous ?
0
ClassicLiving | Sonic 4 Episode I
Ce Sonic 4 Episode 1 est décidément l'une de mes plus grosses déceptions vidéoludiques. Tout d'abord, je trouve vraiment honteux de sortir le jeu en plusieurs épisodes, surtout pour un jeu qui est sensé être la...
Lire la suite
8
manfred741 | Chaotix
Comment aborder Chaotix ? Jeu maudit victime de son support 32x ( trop cher, trop tard, inutile ?) et de l?arrivée de la Saturn; ce titre à très vite été oublié par SEGA et passe donc à la trappe pour beaucoup...
Lire la suite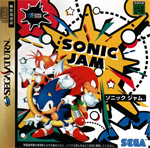 10
spitles | Sonic Jam
Sonic Jam : La confiture de Sonic !!.. Pour moi, ce jeu représente tout simplement la qualité des Sonic du début des années 90. Les 4 meilleurs titres réunis sur une galette : Sonic The Hedgehog, avec...
Lire la suite
Un forum de plus de 90 000 message et 1500 membres.
Votre site ici :
Envoyer une image 120x80 à webmaster[@]soniconline.fr